Common Sense on Mass Immigration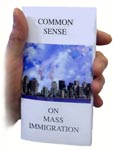 Common Sense on Mass Immigration – a collection of mini-essays.
John H. Tanton, M.D., Editor       ISBN: 1-881780-26-0       Copyright 2004, 2006
This website and companion booklet are intended to help inject immigration policy into contemporary issue debates. Its purpose is public education. It neither endorses nor opposes any candidate for public office.
You may download and reproduce articles at no charge from this website as long as they are reproduced in their entirety, along with credit to the author and mention of the booklet Common Sense on Mass Immigration. You can download the complete document in Adobe Acrobat (pdf) format. (Download a free copy of Adobe Acrobat Reader to view and print the document)
We have tried to make the companion publication as concise as possible.
(See tips on using the booklet). Because there was limited space to print these messages, annotated versions of most articles are included on this website.
Published by The Social Contract Press
445 E. Mitchell St, Petoskey, MI 49770-2623
231-347-1171    www.TheSocialContract.com